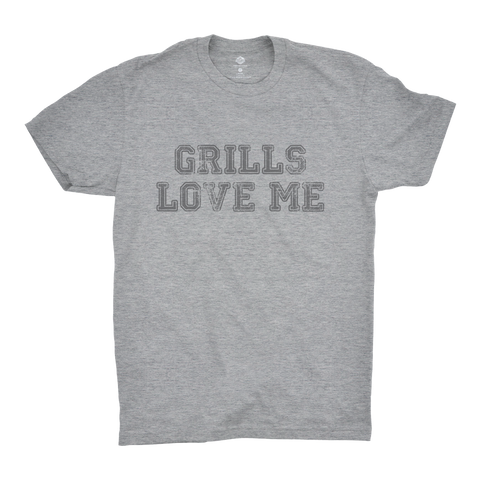 So many different types of grills and smokers in the world and we lover them all.  Guess what?  They love you, too and you should tell the world! This heather gray tee is a poly/cotton blend making it extra soft and comfortable - and is sure to be the envy of your grilling friends.
Did you know that 75% of Americans own an outdoor grill or smoker? The most popular is gas, followed by charcoal and indoor grills.  Pellet and ceramic smokers are gaining in popularity.  We love them all.
Green Smoke Trading Company offers vintage-style t-shirts and apparel for outdoor chefs, barbecue kings, masters of the grill and supreme smokers. When you wear a Green Smoke shirt, you join a family or friends who share a love for all things grilled, smoked and cooked in the great outdoors. Our store is a place where grillers, smokers, outdoor cookers, egg heads - and those who love them - can come together and share the common language of good food and good times.

Whether you prefer barbecued ribs or pulled pork, stainless grills or green smokers, Green Smoke Trading Company's cotton tees will do the talking for you with an old school look and hot off the grill designs. These super soft t-shirts will quickly become your favorite grilling or cooking shirt.
• Made of a super soft poly/cotton blend
• Heather gray short sleeved shirt with gently rolled collar
• Fabric laundered for softness and minimal shrinking
• Unisex relaxed fit